New research commissioned by the Ladder Association has raised serious concerns that unsafe and potentially dangerous ladders are being sold to unsuspecting consumers in the UK.
The report, produced in partnership with East of England Trading Standards Association (EETSA) and Suffolk Trading Standards Imports Team, found that over 80% of commercially-available telescopic ladders tested in the study failed to meet the minimum safety requirements designed to keep users safe. Worse still, the research found that over half of the failed ladders were marked and sold as 'compliant' in a deliberate attempt to mislead consumers.
While there are manufacturers producing ladders that meet the safety standards, the study showed that a significant number of ladders available on the market – and sold by some of the country's biggest online and trade suppliers – fall well below basic safety requirements. Many of these ladders appear fit for purpose and some even display bogus compliance labelling, giving customers false assurance.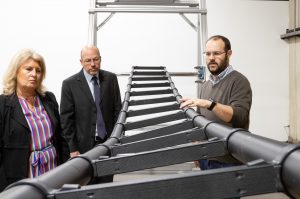 Pictured left to right: Gail Hounslea, Chair of the Ladder Association, Andrew Fayers, Senior Trading Standards Officer, Cambridgeshire County Council on behalf of EETSA, and John Darby, General Manager, Test & Research Centre.

Working at height can be risky enough, without the additional danger of shoddy ladders – every 11 minutes in the UK, someone attends A&E after sustaining an injury involving a ladder[1]. A fall from height can cause life changing injury, and in some cases, can even be fatal.
The aim of the report is to shine a light on the very real dangers of poor-quality ladders on the market and direct consumers to purchase genuine, certified products to prevent injuries caused by unsafe equipment. The organisations behind the report are also calling for suppliers, large and small, to take the responsibility to be more diligent when sourcing ladders to sell to customers.
Telescopic leaning ladders have become much more popular in recent years, partly because they require a small storage space compared to other types of ladder; they're lightweight and compact, and are adjustable in size and working height. To be certain they're as safe as they should be, they should be manufactured to comply with product standard EN 131-6. It was against the most safety critical requirements of this standard that the sample products were tested at the UKAS accredited independent Test & Research Centre in Soham.
Peter Bennett OBE, Executive Director of the Ladder Association, commented: "Making sure consumers are safe is our number one priority and we are committed to raising awareness of potentially harmful ladders. We are aware of below-standard ladders being sold across the UK to unsuspecting customers, and we are particularly surprised and unsettled to hear that some of our best-loved retailers are stocking potentially hazardous products.
"The evidence we have found of unsafe ladders being retailed in the UK is astounding. The majority of telescopic ladders we tested did not meet the minimum safety requirements designed to keep users safe. These ladders are dangerous and have the potential to cause serious injury. Our message is clear: do not assume that all products sold by retailers in the UK are safe. We hope our research conducted in partnership with Trading Standards gives consumers an increased awareness around the issue and encourages them to exercise caution when buying ladders, particularly online."
Vicki Burch, Chair of the East of England Trading Standards Association Product Safety Group, said: "EETSA and Suffolk Trading Standards Imports Team have found it invaluable to work with the Ladder Association on this project. From the samples provided by EETSA, over half failed the appropriate tests to the applicable safety standard. For those telescopic ladders identified as non-compliant, action has been taken to ensure they are removed from sale. EETSA would advise consumers to take time to research before buying, particularly online, buy from reputable sources and check product reviews. If consumers have concerns about the safety of a product before or after purchase, it should be reported to Trading Standards."
Gail Hounslea, Chair of the Ladder Association, added: "Our research carried out in the Telescopic Ladder Surveillance Survey underlines the importance of putting safety first when it comes to purchasing ladders. It's easy to assume that ladders being sold from a recognisable site or store are 'trustworthy' and these marketplaces would only sell tried and tested products, but sadly this is not always the case. We are calling on consumers to shop safer, and one way to guarantee product safety is to buy from a Ladder Association member. We are also urging suppliers, retailers and importers to play their role in sourcing only compliant and safe ladders. If they are unsure of the quality, they should have them independently tested within the UK. No matter their size, retailers and suppliers must take greater responsibility for consumer safety."
The Ladder Association and East of England Trading Standards Association are committed to ensuring customer safety through testing and product recommendations. Following the results of the Survey, both organisations are calling for increased vigilance of the issues on the part of suppliers, marketplaces and social media selling platforms, as well as enforcement agencies and governing bodies, and a joined-up approach with Trading Standards to stop these products at port.
Founded in 1947 and celebrating its 75th anniversary this year, the Ladder Association is the voice of the industry and promotes the highest standards and competence, while working with major bodies including the Health & Safety Executive. The Association harnesses its own expertise along with that of its member companies to support technical excellence, safety and best practice in the interests of ladder users everywhere. All Ladder Association members are required to make or supply ladders that meet the current product standard.
To find out more information on the Step Up to Safe Ladders campaign and to view the full report, please follow the link: www.ladderassociation.org.uk/step-up
[1] Hospital data from NHS England, NHS Wales and Public Health Scotland