The Ladder Association operates an industry standard training scheme that is delivered through approved and audited training centres across the UK.
Lasting no more than a day; they are a quick, simple and effective way of ensuring that anyone using a ladder is equipped with the knowledge and skills to safely work at height.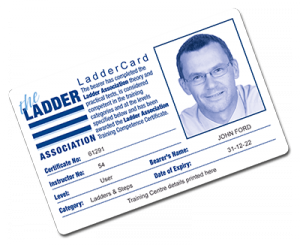 Upon completing a course, delegates will be awarded a LadderCard, which represents demonstrable proof that users are trained to work at height from a ladder and can help to evidence the competence required by the Work at Height Regulations.
Learn why you should get trained here
Our Courses
This is our main course for anyone who regularly uses ladders or stepladders as part of their daily work. It consists of practical and theory assessments over at least four hours, and covers when and how to use a ladder, handling and storage, understanding the law, standards, and potential hazards.
The inspection course is aimed at anyone who may be responsible for inspecting and maintaining ladders or stepladders in their workplace. It is as comprehensive as the Ladder & Stepladder User course, and covers practical guidance on assessing the need for inspection, fault-finding and recommending actions, record keeping, as well as the law.
Delegates can also choose to do a combined User and Inspection course. Lasting a full day, it will teach delegates everything listed above on the use and inspection of ladders and stepladders.
This shorter course, taking a minimum of two and a half hours, is aimed at more occasional users of stepladders and step stools – those working in shops, offices, schools, hospitals and other sectors where using this equipment to access height is infrequent. It summarises what they need to know about safe use, standards, hazards and the law.
Book your training
To find out more and book your course of choice, please contact your nearest training centre
Interested in becoming a Ladder Instructor?
Learn about instructor training and what criteria you need to be eligible here