A telescopic ladder safety campaign from the Ladder Association

The Ladder Association is committed to stopping the sale of unsafe ladders in the UK.
Our latest ladder safety campaign, 'Step Up to Safe Ladders', aims to shine a light on the very real dangers of poor-quality telescopic ladders on the market, to stop the sale of these unsafe ladders in the UK, and ultimately keep people safe when using ladders.
Our recent research and testing of a sample of telescopic ladders (obtained online and in-store) showed that 4 out of 5 of the ladders tested in this specific survey, failed the required safety tests designed to keep users safe.
Despite these results, we want to be clear in saying there ARE also safe products out there, being sold or stocked by trusted manufacturers and suppliers.
However, we hope our research, conducted in partnership with Trading Standards, gives consumers an increased awareness around the issue and encourages them to exercise caution when buying telescopic ladders, particularly online.
The issue facing consumers
Working at height can be risky enough, without the additional danger of unsafe equipment – every 11 minutes in the UK, someone attends A&E after sustaining an injury involving a ladder1. We know that a fall from height can cause life changing injury, and in some cases, death.
And research carried out by the Office for Product Safety and Standards (OPSS) also found only 17% of consumers consider safety at the time of purchase, reflecting the trust placed in suppliers, retailers, marketplaces and online platforms to only supply safe products.
Unfortunately though, many consumers are unaware that selling platforms, including online stores and social media sites, assume no responsibility for the safety of goods sold by third parties.
So what does this mean for the consumer? And what's the risk?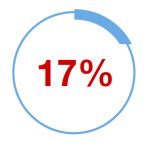 Only 17% of consumers consider safety
when purchasing a product
Over 80% of ladders tested in this survey failed safety tests
New research commissioned by the Ladder Association has raised serious concerns that unsafe and potentially dangerous ladders are being sold to unsuspecting consumers in the UK.
Our market surveillance study, in partnership with East of England Trading Standards Association (EETSA) and Suffolk Trading Standards Imports Team, put 17 telescopic ladders through their paces in a series of safety critical tests at the UKAS accredited not-for-profit UK testing facility, Test & Research Centre.
The test ladders were obtained anonymously from a range of sources including online stores, marketplaces, physical stores and included some ladders detained at Port by Trading Standards, to provide a fair and representative sample of the market.
The telescopic ladders were subject to key strength tests and dimensional checks, to check their conformity to product standard EN 131-6. This is the standard to which all telescopic ladders should be made and demonstrates quality and safety.
The results make for some concerning reading…
Over 80% of the telescopic ladders tested in the study – including some from our best-loved retailers – failed to meet the minimum safety requirements designed to keep users safe.
Worse still, over half of the failed ladders were marked and sold as 'compliant' in a deliberate attempt to mislead the public.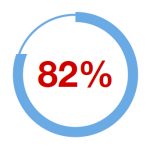 82% of the ladders tested
failed the required safety tests, were non-compliant and, in the majority of cases,
were unsafe to use
The Ladder Association is committed to helping make sure that all ladders sold, whether online or in store, are safe to use.
That's why we commissioned this research and have compiled the results in a comprehensive report that you can download and read for yourself.
What's inside, the key highlights:
• Key drivers and objectives of the campaign;
• Why we need market surveillance to improve safety and product conformity;
• Snapshot of the UK ladder market;
• Ladder accidents and how this translates to hospital admissions;
• Detailed results on our product testing;
• Our call for action from enforcement agencies, regulatory bodies and consumers;
• Practical guidance for consumers when buying ladders online or in store.
Watch our testing in action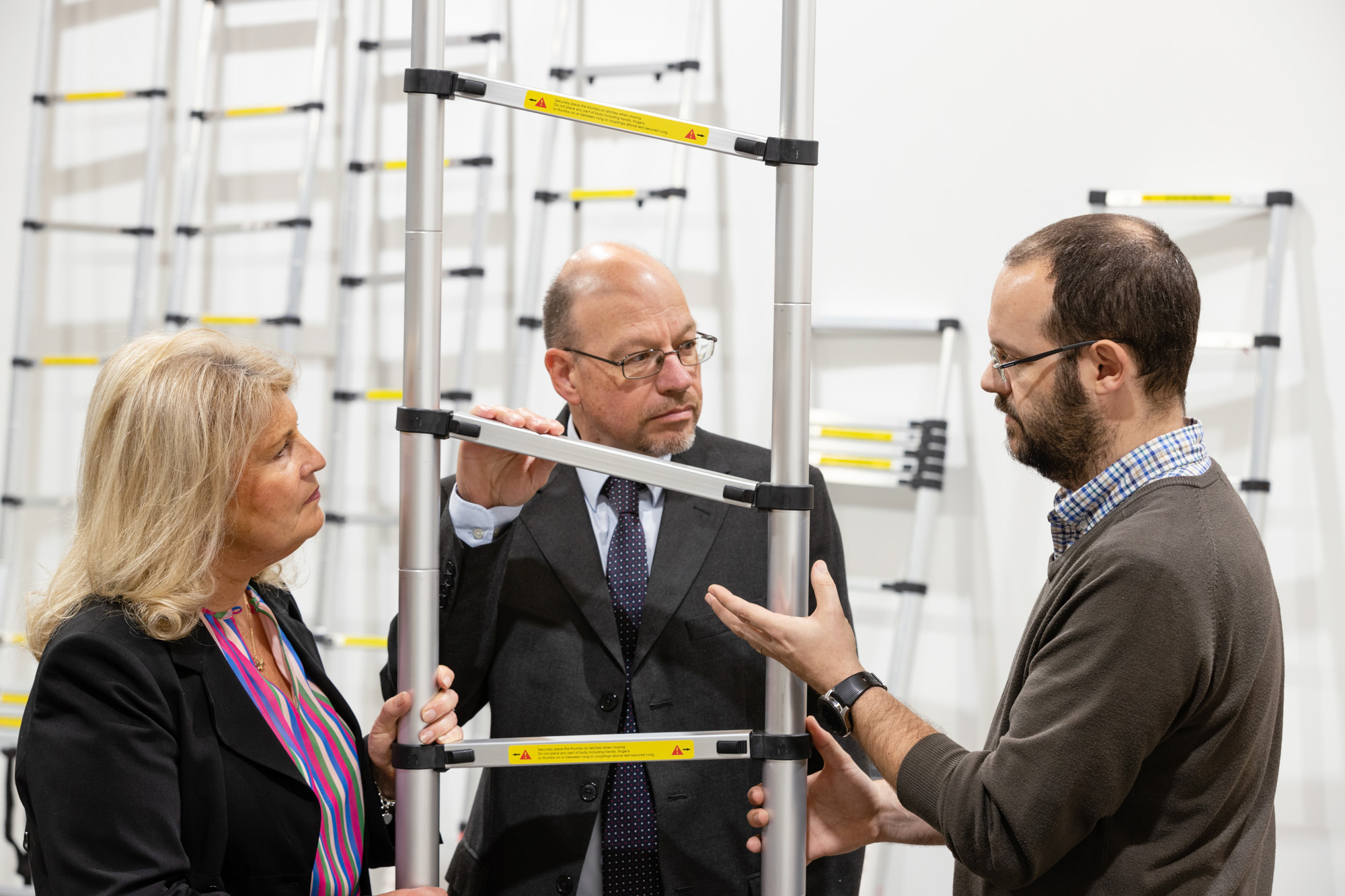 Pictured left to right: Gail Hounslea, Chair of the Ladder Association, Andrew Fayers, Senior Trading Standards Officer, Cambridgeshire County Council on behalf of EETSA, and John Darby, General Manager, Test & Research Centre.
"EETSA and Suffolk Trading Standards Imports Team have found it invaluable to work with the Ladder Association on this project.

From the samples provided by EETSA, over half failed the appropriate tests to the applicable safety standard. For those telescopic ladders identified as non-compliant, action has been taken to ensure they are removed from sale.

EETSA would advise consumers to take time to research before buying, particularly online, buy from reputable sources and check product reviews. If consumers have concerns about the safety of a product before or after purchase, it should be reported to Trading Standards "


Vicki Burch, Chair of the East of England Trading Standards Association Product Safety Group
Following our study, the Ladder Association are calling for:
• Increased awareness of the issues with enforcement agencies and have a joined-up approach to tackling ladder safety issues, reporting and learning;
• Increased intelligence of the UK telescopic ladders market to be able to quickly spot problems, based on good data;
• Increased awareness with online retailers, marketplaces and social media selling platforms to influence businesses to comply with product regulations and standards;
• The media to help raise awareness of substandard ladders, helping consumers to make more informed buying decisions, and encourage consumers to take action to protect themselves by not buying unsafe telescopic ladders;
• Further proactive surveillance projects at regular intervals and decisive remedial action where appropriate;
• Support from the All-Party Parliamentary Groups to lobby for changes to product safety regulations, based on a good understanding of product safety problems, to minimise safety issues and risks to consumers.
Guidance for consumers for buying new ladders
How can you make sure the telescopic ladders you buy are safe?
• Take some time to research before you buy. You can carry out a quick online check of the company or brand to check their business location and visibility in the market. If they don't have a UK/EU address then it can make it much more difficult to contact them if you have an issue after you buy;
• Check product reviews. These are a great way of hearing first-hand from other consumers and often give valuable insight in the product quality, mainly if it falls below standard. But beware, some companies and brands post fake positive reviews, so read them carefully, note where the reviewer is based or how many reviews they have previously posted.
• Don't make decisions solely on price. But, if something is very cheap, you should question why. That's not to say it's poor quality, but it's certainly a prompt to make you do a bit more homework. Genuine quality products can cost more to manufacture due to the enhanced testing and cost of materials, but equally, a higher price doesn't necessarily mean quality;
• Remember, online platforms take little or no responsibility for the quality or safety of the products sold on their platforms and place the responsibility for safety firmly with the seller. Don't assume product safety and compliance checks have been carried out by them before they placed them online for sale;
• Equally, don't assume physical stores sell only safe products. They could knowingly – or unknowingly – be stocking products that don't meet standard. Check the labelling for print quality or spelling errors, check the product quality as best you can, and speak to the retailer themselves if you have any questions;
• Avoid ladders that are CE marked. Despite what you might think, ladders cannot be CE marked, so avoid any that bear that marking;
• Check that the products are certified by a third-party Conformity Assessment Body. You can contact the Assessment Body to verify the authenticity.
• Buy from a Ladder Association member. Members are committed to high standards of safety, and by joining the Association, they pledge to only make or sell ladders that comply with EN 131 (or international equivalents) and are certified by a third-party Conformity Assessment Body. A full list of members can be found on the Ladder Association website:
https://ladderassociation.org.uk
• When you receive your ladder, check it. Check the product, the instruction manual (every ladder should come with one) and the labelling on the ladder itself;
• If you think the ladder is unsafe, dangerous or not made to standard, firstly, don't use it! You should then contact your local Trading Standards team, or you can REPORT UNSAFE LADDERS HERE >
What about your existing ladders?
It's estimated there are over 2 million ladders in regular use in the UK, so there's a very high chance many people will already own a ladder of some type at home or at work.
How do you know your current ladder is safe – and are we saying to buy new ones? The short answer is no. We don't expect or advise every ladder owner to buy a new ladder. But, to help you determine if your existing ladder is safe to use, we do suggest you:
• Check your ladder before you use it. Read the user instructions from the manufacturer and carry out a 'pre-use' check to spot an visual defects. The check should include:
• the stiles – make sure they are not bent or damaged, as the ladder could buckle or collapse;
• the feet – if they are missing, worn or damaged the ladder could slip. Also check the ladder feet when moving from soft/dirty ground (eg dug soil, loose sand/stone, a dirty workshop) to a smooth, solid surface (eg paving slabs), to make sure the actual feet and not the dirt (eg soil, chippings or embedded stones) are making contact with the ground;
• the rungs – if they are bent, worn, missing or loose, the ladder could fail;
• the locking mechanism – does the mechanism work properly? Are components or fixings bent, worn or damaged? If so, the ladder could collapse. Ensure any locking bars are fully engaged;
• if it's a stepladder, check the platform – if it is split or buckled, the ladder could become unstable or collapse;
• if it's a stepladder, check the steps or treads – if they are contaminated, they could be slippery; if the fixings are loose on the steps, they could collapse.
If you spot any of the above defects, don't use the ladder! If you're using the ladder at work, make sure you notify your employer.
• Check the ladder labelling. All ladders should now be designed and manufactured to the current EN 131 standard only, so if you have a newer ladder you should see that label on it. If it's an old ladder, you might see markings for BS 2037 and BS 1129. These are old product standards and no reputable company is making or supplying ladders to these standards anymore. If you do have ladders that were made to the old standards, you may continue to use them if you are sure they are in good condition (as per the above pre-use checks).
If you have ladders and you are not sure if they comply with the obsolete and withdrawn standards or the latest EN131 standard (because you don't have a record or the labels are gone), then we advise that you stop using them immediately. If you cannot be sure, you should scrap them properly and replace them with ladders which comply with the current EN131 standard.
Remember, ladders cannot be CE marked, so avoid any that bear that marking;
• Think back to where you bought your ladder. Did you buy it online or in store? Refer back to our earlier guidance for buying new ladders.
Remember, if you think the ladder is unsafe, dangerous or not made to standard, don't use it!
Looking for safe ladders? Choose ladders from Ladder Association manufacturer or supplier members. FIND MEMBERS >
Practical Ladder Training
It might sound strange to some people to think they need trained to use a ladder. They're simple, right?
Yes, on the face of it they are. And they can be a sensible and practical solution for low risk and short duration work at height.
Although ladders are fairly simple pieces of work equipment, you must still be 'competent' to use them, whether at work or at home. That's because you're working at height, which always carries risks, and it's important you know how to do it safely.
Ladder Association training is about more than just using the ladder; it's about understanding when it's right to use a ladder (and when it's not!), choosing the right ladder and then understanding the simple steps to take to use the ladder safely.
Training is available from approved training centres across the UK and includes:
* Ladders and Stepladders for Users
* Ladders and Stepladders Inspection
* Steps and Step Stools for Users
* Ladders and Stepladders for Managers
Buy from a Ladder Association member
Looking for safe ladders? Choose ladders from Ladder Association manufacturer or supplier members. FIND MEMBERS >
More ladder safety guidance
Explore our website for MORE FREE GUIDANCE, including information on telescopic ladders and changes to ladder standards. 
If you want to stay updated on the latest ladder safety news, resources and events:
• Join our mailing list – SUBSCRIBE HERE >
• Follow us on LinkedIn, Twitter and Facebook
Every day, all across the world, people in all sorts of industries, and at home, use ladders.
The Ladder Association is here to help you do it safely.
For all press enquiries specifically relating to our 'Step Up to Safe Ladders' Campaign, please contact our PR Agency:
Pagoda PR
Contact: Holly Kidd
Email: Holly.kidd@pagodapr.com
Mobile: 07590 405915