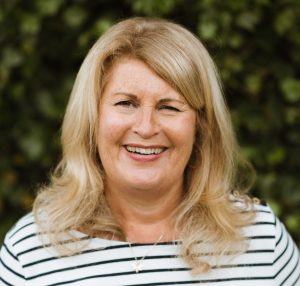 Today on International Women's Day, we celebrate Ladder Association Chairman, Gail Hounslea!
Gail has over 20 years' experience working with ladders. Her astute business brain and entrepreneurial spirit meant she spotted a gap in the market in 2004 and founded her own ladder supply company, Ladderstore. Since then, she has worked tirelessly across the (predominantly male) sector to promote safe equipment and safe work at height. Gail's expertise was recognised when she was nominated by her peers onto Ladder Association Council in 2015 and in 2020, she became the first ever female Chair of the Ladder Association – a title only the men had held since 1947!
She expertly hosted our 75th Anniversary Ladder Conference in October 2022 (our most successful to date) and she's helped us shine the spotlight on our UK-wide PR campaign to raise awareness of unsafe – and potentially deadly – telescopic ladders on sale in the UK. Under her steer, the Ladder Association has administered a record level of approved ladder training qualifications (over 13,000 LadderCards in 2022). Gail is also a Trustee of the Test & Research Centre, a specialist UK facility for access equipment testing and research.
As well as her devotion to work at height, Gail has a professional coaching qualification, and is an avid supporter of peer-to-peer networking, attending many business and charitable events, particularly in her beloved Bolton. Gail is a Trustee of BACKUP North West, a Charity who provide essential support services across Bolton to young people aged 16-25 who are homeless, or at risk of homelessness. And as if that's not enough, she manages to squeeze in time as Trustee at Eagley Junior School.
Take one look at Gail's LinkedIn and you'll see she proudly flies the flag for women in business, 'hyping up' females in the workplace at every opportunity and offering valuable advice and unwavering support! Inspirational, influential and brilliant!