Ladder Conference 2022
#LadderConf
Each year, we hold a conference in the UK to share the latest insights and guidance on ladder safety. We invite our members as well as anyone else with an interest in ladders – including those who select access equipment for their organisation or have responsibility for the health and safety of people who work at height. The event attracts delegates from a range of industries including local authorities, facilities management, housebuilding and construction.
This page contains videos and other resources from our 2022 conference, which took place on 19-20 October 2022 at the Crowne Plaza Hotel, Stratford-upon-Avon.

Overall event rated
4.3 OUT OF 5


92%
said they connected with new people at Ladder Conference
97%
said they learned something new at Ladder Conference
Results from our post-event delegate survey

Videos from the conference
Whether you want to relive the action or see what you missed, you've come to the right place. Here are videos of all presentations that happened on the main stage at Ladder Conference 2022.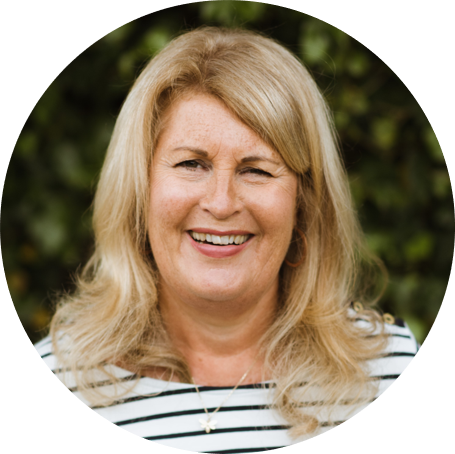 Celebrating 75 years of ladder safety
With Gail Hounslea (Ladder Association Chairman)

Ladder products and ladder safety have come a long way since the Ladder Association was founded in 1947. Gail takes us a trip down memory lane as we look at how ladders, and the Association, have progressed (with a video kindly produced by Ladderstore).
Gail Hounslea was our host for Ladder Conference. Gail has over 20 years' experience working with ladders. She founded ladder supply company, Ladderstore, in 2004 to sell ladders and access equipment and has been working hard to promote safe equipment and safe work at height ever since. Ladderstore has been a member of the Ladder Association since 2011, with Gail nominated onto Council in 2015. In March 2020, Gail became the first female Chair of the Ladder Association.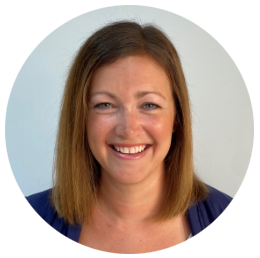 Reducing falls from height: how can we get it right?
With Hannah Williams ( No Falls Foundation)

Falls from height remain one of the leading causes of workplace fatalities and injuries – accounting for 29 fatalities in 2021/2022 – with many injuries having life-changing consequences for the victim and their families, even from low level falls such as ladders. Hannah discusses the current statistics and asks what can we do as a collective, to reduce these avoidable incidents.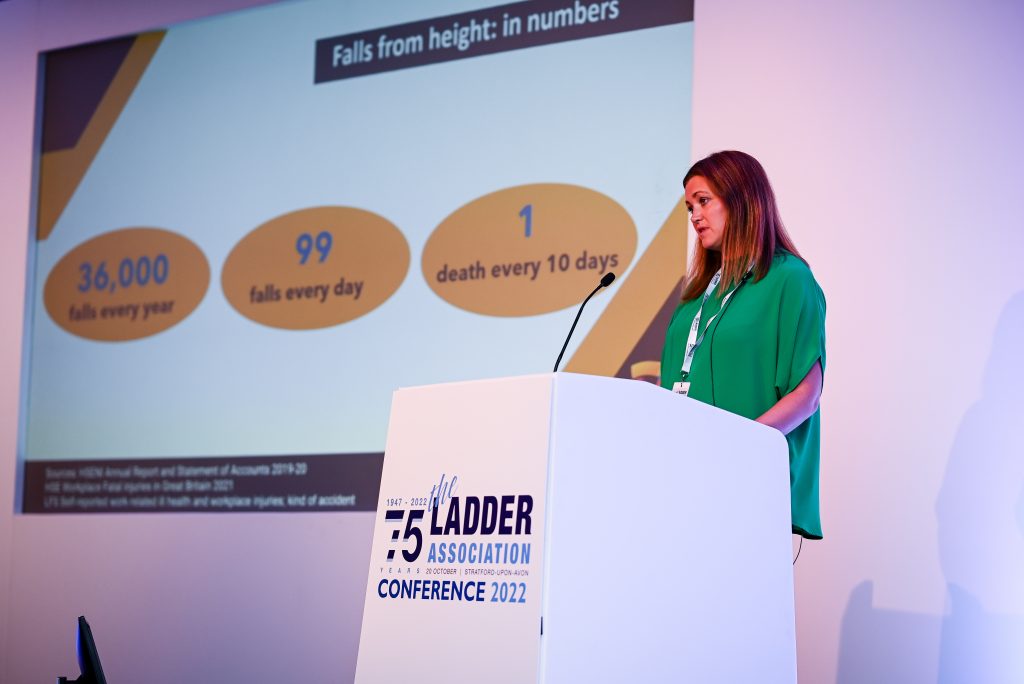 Hannah began her career in the work at height sector at Lyte Ladders and Towers in 2006. In 2009 Hannah was appointed to the board of directors serving in various positions until 2018. During her time at Lyte, Hannah took a keen interest in improving height safety and sat on the governing bodies of both the Ladder Association and PASMA, including the Ladder Association's Technical Committee. Her work experience embraces marketing, public relations, product development and product sourcing and Hannah is delighted to be continuing her interest in height safety by serving as manager of the No Falls Foundation.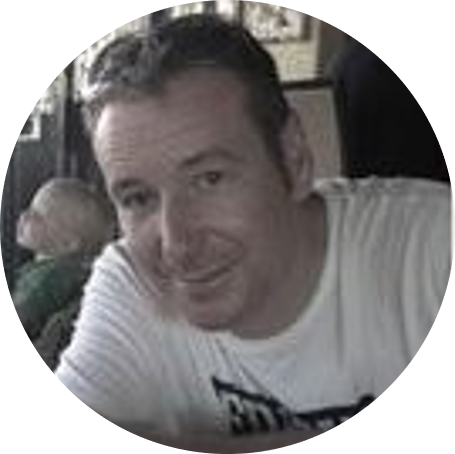 Collaboration is key for safer work at height
Paul will discuss the ongoing successful collaboration between the HSE and the Ladder Association, including updates to their web-based guidance on ladders and stepladders and the revision of industry guidance INDG 455 – now LA 455.
Paul has worked in a variety of senior policy and communications roles since joining the HSE in 2009 and is now Head of Web Services, Content & Design. His career highlights there are impressive and include:
> Delivering recommendations detailed in Professor Löfstedt's Independent Review of Health and Safety; and
> Overhauling HSE's extensive legal guidance portfolio, working closely with industry experts to rewrite guidance, debunking common myths and simplifying guidance on the Work at Height Regulations.
He's also delivered a range of award winning, groundbreaking HSE strategies and campaigns, including Safe and Sound At Work – Do Your Bit, Shattered Lives, Be Part of the Solution and Help GB Work Well.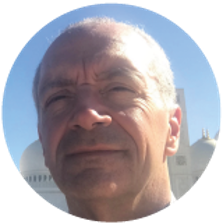 b2 or not b2...that is the question?
With Don Aers (The Ladder Association)

A revision of EN 131 (the European design standard for portable ladders) in 2015, resulted in a dimensional change to all types of leaning ladder. The change, referred to in the ladder industry as the b2 dimension, has been a hot topic for debate since its introduction. Don will look at the developments and outcomes that have occurred since the standard changed…
b2 or not b2, that is the question?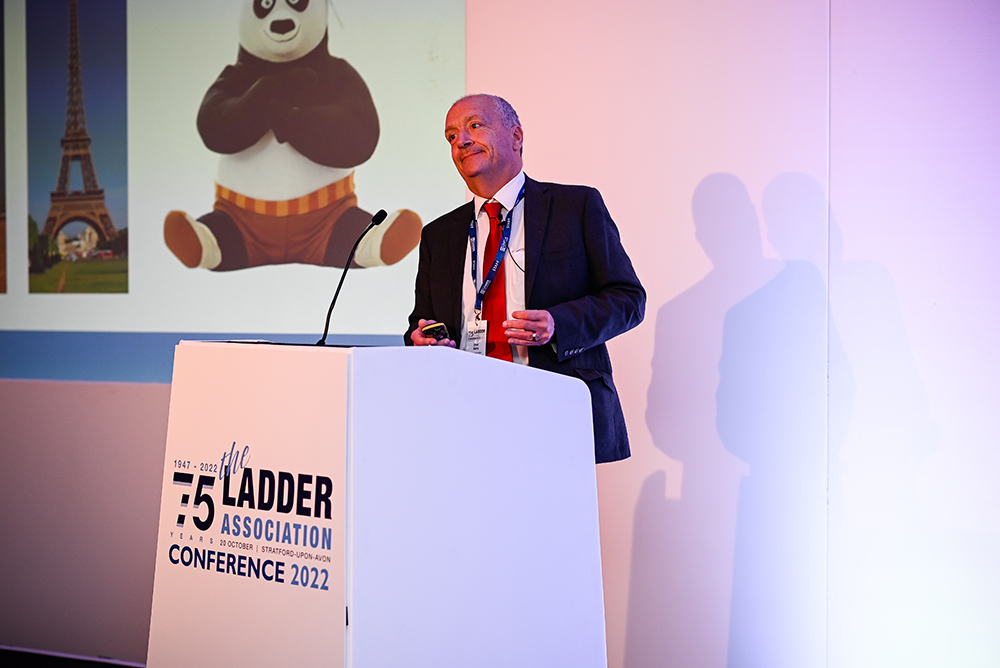 Don is the Technical Manager for the Ladder Association and takes an active role in the development of relevant standards in the UK, Europe and Internationally. He is Chairman of the BSI B514 Ladders Committee and the UK Lead on the CEN European Ladders Committee TC93, as well as a convenor and member of various European standards ladder working groups. Before joining the Ladder Association in 2010, Don held the position of Technical Manager for the well-known access equipment manufacturer Youngman Group (previously SGB Youngman), for 15 years.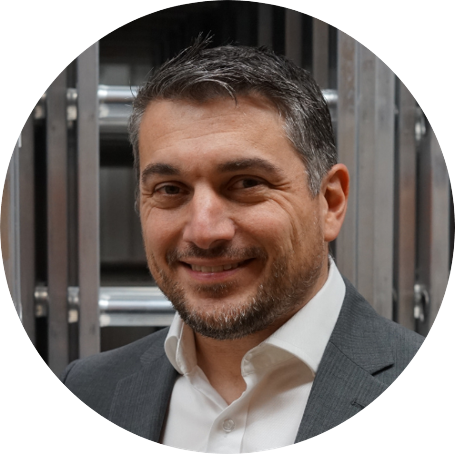 Roof Ladder User Survey: our initial findings
With Francis Camilleri (TB Davies Cardiff Ltd)

Roof ladders or roof crawlers have been around for hundreds of years, and the aluminium roof ladder has been in everyday use since the 1970's. Francis, as Chair of the Ladder Association's Technical Committee, will give an update on our recent Roof Ladder User Survey, and how we'll use this valuable insight to help make roof ladders safer.
Francis is Chairman of the Ladder Association's technical committee. He joined the sales team of Ladder Association supplier member, TB Davies, in 1993 to look after a mixture of distributors, and volume end-users. Over subsequent years, he has been responsible for the company's eCommerce strategy, market and product development, working with trade bodies, testing laboratories and suppliers to improve product designs with one aim, to reduce accidents from climbing products when working at height to zero.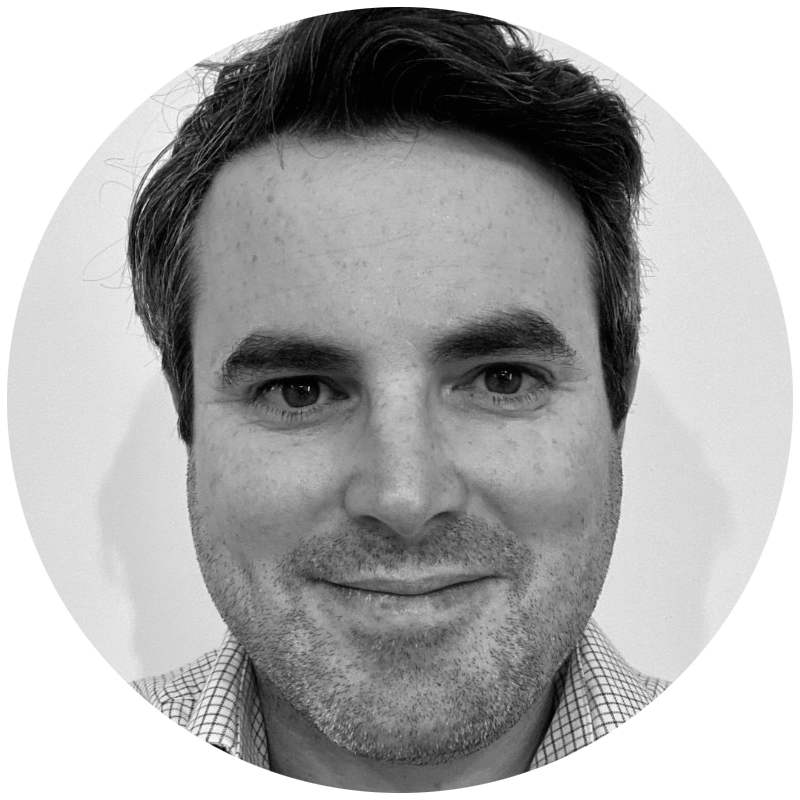 Product safety: policy and enforcement
With Mike Kearney (Office for Product Safety & Standards – OPSS)

With a focus on policy and enforcement, Mike will discuss product regulation across the full product lifecycle and the importance of co-ordinating national and local regulation to enforce product safety regulations. He'll look at how the OPSS work with business and other stakeholders to help bring safe products to the market, and importantly, recall unsafe products when needed. (Please note this session is not available as recording)

Mike's role at the OPSS involves working with business stakeholders, particularly at trade association level, to ensure that OPSS has appropriate links to the sectors that it regulates. Beyond that, he runs the OPSS Business Reference Panel and is working to improve the organisation's accountability and transparency. Prior to taking up his current role he was head of enforcement within OPSS and it's predecessor organisations.

Step up to safe ladders: market surveillance
With Peter Bennett OBE (Ladder Association), Phil Reed (Suffolk County Council Trading Standards) & John Darby (Test & Research Centre)
Recent research and testing of a sample of imported telescopic ladders showed that 4 out of 5 of the ladders tested failed the required safety tests designed to keep users safe! This session will highlight the need for market surveillance, and give an insight into the rigorous product testing carried out in the study commissioned by the Ladder Association, in partnership with Trading Standards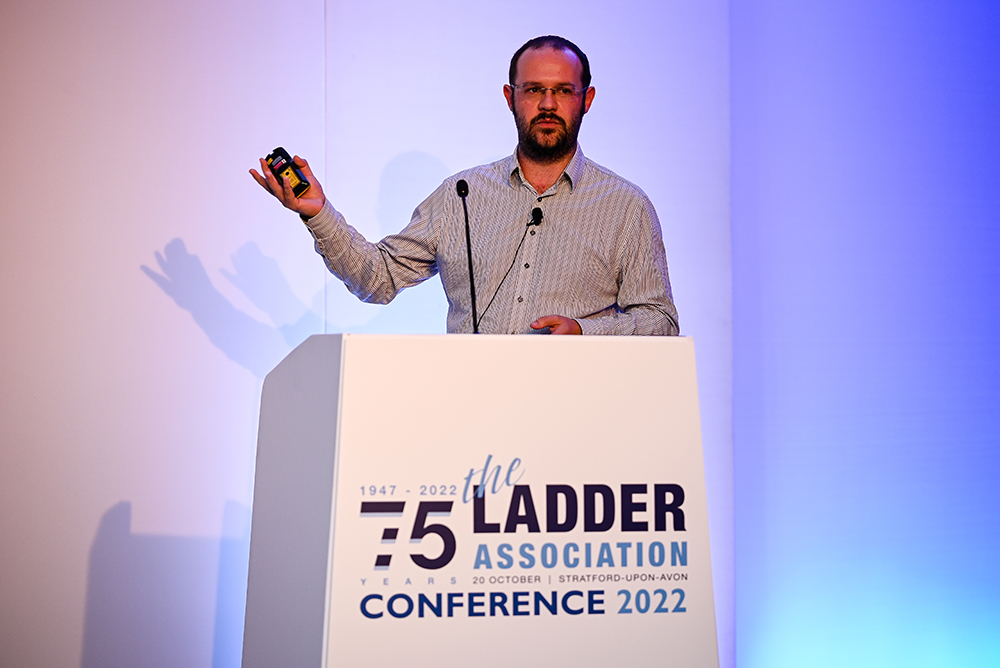 John has worked in the access industry for almost his whole career. He spent over 10 years with the Youngman Group, latterly WernerCo. where he led the development of ladders and towers, with a view to improving their quality and safety, and their manufacture, either by hand or on automated machinery. John oversaw the purchase and renovations of the Test & Research Centre building and is responsible for the day-to-day running and management of the business.
Phil has worked in import surveillance for 9 years and has been involved in the assessment of ladders at the border for the last 18 months. He's been involved in a number of surveillance projects with the Test & Research Centre, testing suspicious telescopic ladders stopped at port, and blocking multiple shipments of dangerous ladders from hitting UK shelves.
Peter is Executive Director of the Ladder Association – just one of many roles he has within the height safety industry. In 2019 his contribution to height safety was recognised when he was invested with an OBE by HM the Queen at the Palace of Holyroodhouse, Edinburgh.

Improving ladder safety in the housebuilding sector
With Sara Cartin (HBF) & Nathan Preston (Gleeson Homes)

In 2019/20 ladder incidents accounted for 33% of all fall from height incidents reported by HBF members through RIDDOR. Despite a year-on-year reduction since then (now 23%), there is still more to be done. Sara and Nathan will givean insight into the recent work with the Ladder Association and Access Industry Forum in producing practical guidance to help reduce falls from ladders on site.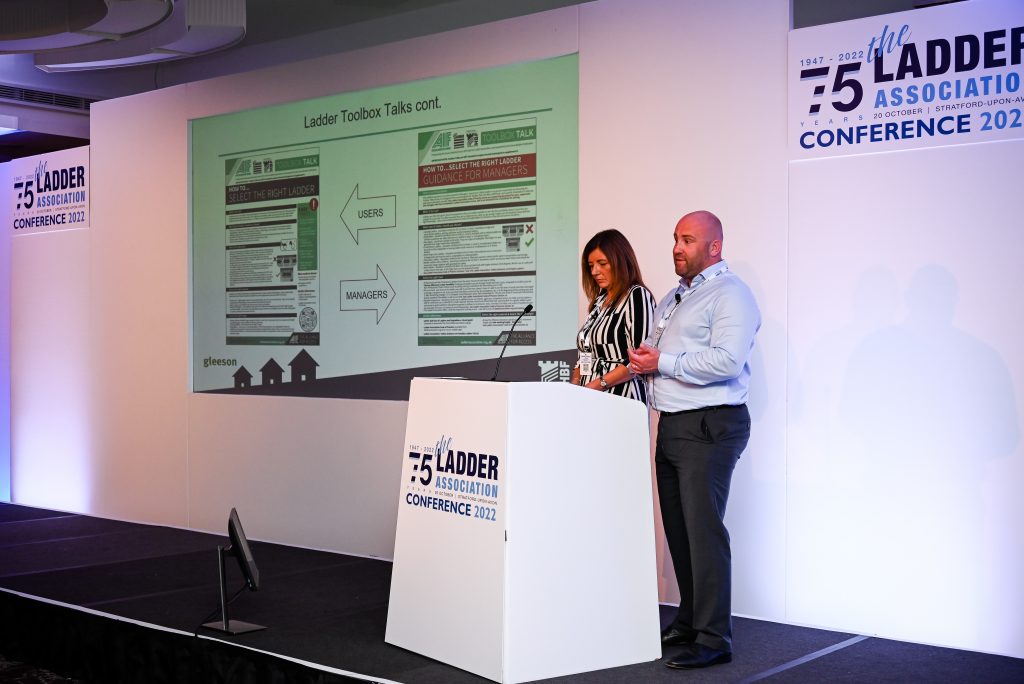 Sara joined the HBF in 2016 to manage the Home Building Skills Partnership (HBSP). With direct experience in the skills and training sector for over 20 years, she has held a number of senior management positions within CITB and West Anglia Training Association.
Nathan has worked in the construction sector for 26 years. He spent the first 16 years as site manager then H&S Manager for Willmott Dixon. In 2018 he joined Gleeson Homes at HSEQ Manager. Nathan is also the HBF's Health and Safety Committee RIDDOR subgroup chair and has been closely involved in the work with the Ladder Association and AIF in the last year.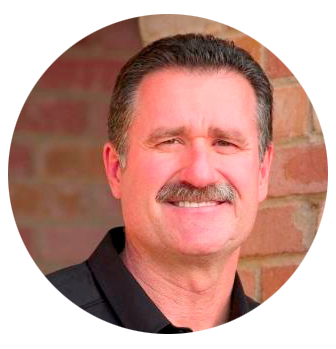 Updates from across the pond
With Ryan Moss (American Ladder Institute)

While the conference today has looked at what's happening here in the UK, we turn our attention to ladder trends 'across the pond'. We hear via video-link from the American Ladder Institute's President, Ryan Moss, about developments in the States as they also celebrate their 75th anniversary this year!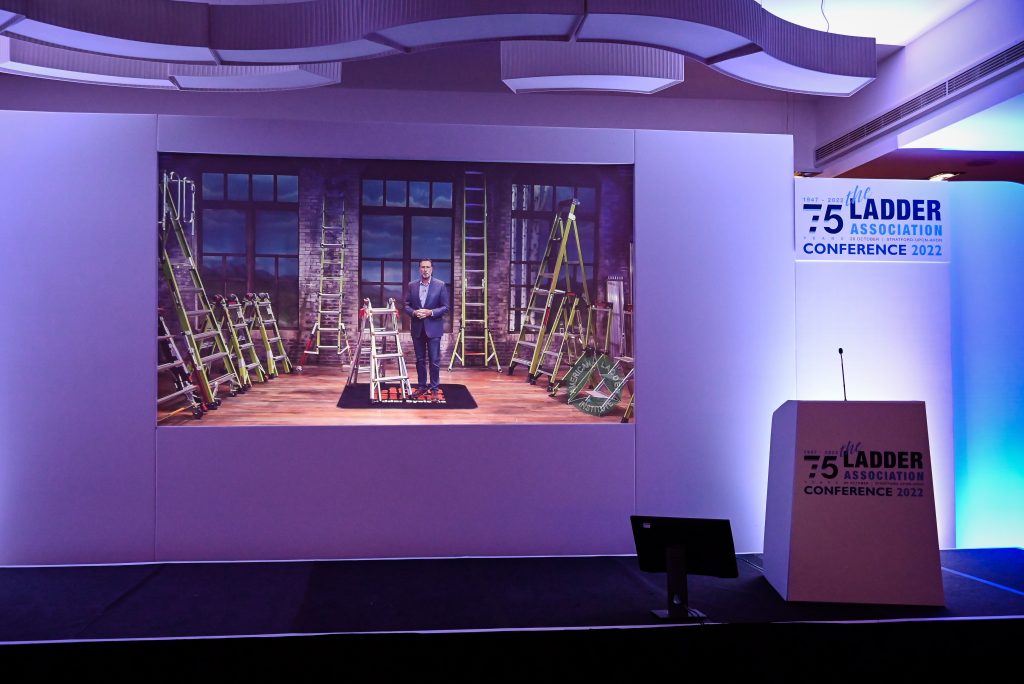 Ryan Moss started at Little Giant Ladder Systems as a manufacturing line worker in 1984. Over the years he moved through the ranks as shop foreman, plant manager, vice president of manufacturing and later, chief operations officer. In 2006, he was appointed CEO and was the inspiration behind the wildly successful Little Giant Ladder infomercial, which catapulted the Little Giant brand onto the national stage and resulted in substantial revenue growth for the company. Ryan currently serves as president of the American Ladder Institute, which is instrumental in establishing best practices and safety standards in the U.S. ladder industry.

With Gail Hounslea (Ladder Association Chairman) and Peter Bennett (Ladder Association Executive Director)

Gail Hounslea was our host for Ladder Conference. Gail has over 20 years' experience working with ladders. She founded ladder supply company, Ladderstore, in 2004 to sell ladders and access equipment and has been working hard to promote safe equipment and safe work at height ever since. Ladderstore has been a member of the Ladder Association since 2011, with Gail nominated onto Council in 2015. In March 2020, Gail became the first female Chair of the Ladder Association! Gail is also Trustee of the Test & Research Centre, and devotes much of her free time to charitable work, particularly around her home town of Bolton.
To round up our 75th Anniversary Ladder Conference, Peter looks ahead to what's coming next for the Ladder Association, reminds us what we learned at today's event and challenges us to put the advice into action in our own workplaces.

Thank you to our wonderful speakers!

If you want to hear about our next event, sign up for our e-newsletters. Subscribers will receive our most important news, updates and resources relating to ladders and working at height, plus invitations to events. Stay in the loop >

Ladder Association Guidance
At Ladder Conference 2022 we signposted delegates to a number of handy reference guides that are freely available for you to download, keep and share. Three key 'go-to' ladder safety resources we mentioned are LA 455 (produced with the HSE), our Ladder Association Code of Practice, and the recent Telescopic Ladder Surveillance Survey Report. Click on the images below to download your copy…

Ladder Safety Toolbox Talks from the Home Builders Federation
The Home Builders Federation (HBF) joined forces with the Ladder Association and Access Industry Forum (AIF) to release a series of practical and informative work at height toolbox talks to shine the spotlight on height safety.
The ladder safety toolbox talks cover key information and useful references relating to the safe use, selection and securing of ladders, with supplementary guidance for managers and supervisors to deliver the talks.

Photos from Ladder Conference 2022
We captured lots of great photos of the Conference and our Chairman's Drinks & Dinner celebration. Take a look >

At Ladder Conference, delegates were introduced to No Falls Foundation, an important new charity dedicated to preventing falls from height and helping people affected by the consequences of a fall.
Please sign up for their newsletter, visit their website, and consider how your organisation could show its support.
Contact info@nofallsfoundation.org for more info.