---
 Easi-Dec


Description: UK Manufacturer and Supplier of working at height Platforms, fragile roof safety platforms and Ladder Safety Accessories. A part of the Kee Safety Group of Companies.
Website: www.easi-dec.co.uk       Telephone: 01767 691 812
Where you can exchange Ladders: Merlin House, Unit 7, Blaydon Road, Sandy, Bedfordshire, SG19 1RZ
---
Ladder & Fencing Industries (Newent) Ltd

Description: For more than 60 years LFI has been manufacturing and supplying Trade and Industry with a huge selection of the finest aluminium, steel, timber and GRP ladders, steps and access equipment available. Based in Newent, Gloucestershire, our family business was established in 1947, and since then we have earned our reputation as the UK's leading manufacturer and supplier of the highest quality ladder equipment. We have grown strong by listening to our customers and making sure that our products and services are tailored to put your requirements at the very centre of what we do.
Website: www.britishladders.co.uk      Telephone: 01531 820 541
Where you can exchange Ladders: Horsefair Lane, Newent, Gloucestershire, GL18 1RP (see on map)
---
Ladderstore
Description: Ladderstore, the authority in access specialises in everything to do with working at Height safely. Our experienced team will help you choose the best solution for your access needs and if we cannot find a standard product we work closely with all the UK manufacturers to design and manufacture a solution for you.
Website: www.ladderstore.com       Telephone: 01204 590 232
Where you can exchange Ladders: The Old Bank, 116-118 Bradshaw Brow, Bolton, BL2 3DD (see on map)
---
TB Davies

Description: Si

nce 1945 we have worked closely with the world's finest manufacturers that share our vision for developing quality and durable products that protect pro-users when working at height. Our leadership philosophy is to serve, protect, educate and inspire our people to work with partners who believe in keeping them and our customers safe.
Website: https://www.tbdavies.co.uk       Telephone: 029 2132 0000
Where you can exchange Ladders: TB Davies Cardiff LTD, Lewis Road, Cardiff, CF14 6SP (see on map)
---
Zarges

Description: ZARGES are one of Europe's leading manufacturers of ladders and other access equipment.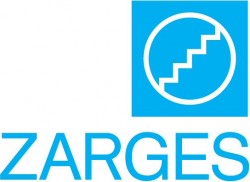 Website: www.zarges.com/uk    Telephone: 01908 641 118