2016 Ladder Exchange: 1st October – 31st December
Run by the Ladder Association in partnership with manufacturers and suppliers across the country, the Ladder Exchange has already been responsible for removing thousands of potentially dangerous ladders and stepladders from service.
This year promises to be no exception as it continues to save lives and reduce injuries by replacing broken and bent ladders with safe, brand new ones at a special price.
Take the opportunity NOW to check and inspect your ladder inventory for possible problems – and then SAVE MONEY by visiting your nearest Ladder Exchange Partner between 1st October and 31st December, 2016.
Don't miss out on this unique opportunity to stay safe and make genuine savings. And, of course, you can enjoy the confidence and reassurance of knowing that your 'dodgy' ladder is being replaced by a new one that meets all the relevant British and European standards.
How does the Ladder Exchange work?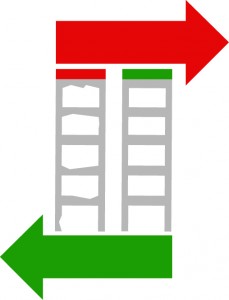 1. Check your ladder using our checklist. If your ladder fails the checklist, you should replace it.
2. Find a Ladder Exchange Partner near you.
3. Bring your old ladder to your chosen Ladder Exchange Partner and buy a new one at a discounted price. The Partner will keep the old ladder for safe disposal.
All our Partners sell ladders that are either BS1129 part 1 or 2, BS2037 part 1 or 2 or EN131 accredited.
Ladder Leaders/Ladder Losers Competition
The 'Idiots on Ladders' Competition will return, but now as the 'Ladder Leaders/ Ladder Losers' competition, as we seek to highlight both dangerous and safe use of ladders. Click here to find out more information on how to get involved and see the results of last year's competition.